<![if !vml]>

<![endif]>
Reactions from around the world
at Home2b.nl
<![if !vml]>

<![endif]>
We have readers from 133 countries.
Respect is the keyword to meet people of other cultures and religions.
This is the only way to World Peace.
Peace to you all.
Blessed be.
<![if !vml]>

<![endif]>
Hello. My name is D.... and I just purchased a ring on the 25th of Aug, 07.
The first day I put the ring on I had such intensise feelings
in my left hand and arm I thought about removing it. 
The feeling was so strong it was almost annoying.
On second thought and advice of my guide I left the ring on.
Today  which is tues the 28th I still feel the ring working
but  it is a comfortable feeling. I was very tired last night.
Went to bed at 5 oclock in the evening and slept through the night.
When I woke up I had been a sleep for 16 1/2 hours.
I have never done something like this before
so figure the rings energies are working on me.
I had many dreams last night , most that I don't recall just remember dreaming.
 Thank you for sharing your experencies with the ring.
will bookmark your page  and follow your progress.
Thanks again....Light blessing to you...D....
<![if !vml]>

<![endif]>
From Miroslav we got an interesting article about
Cosmic energy versus aura
It is to long to publish it here.
Maybe we will make a separate webpage for it.
Thank you, Miroslav.
<![if !vml]>

<![endif]>
Reader N. sends us the old and mysterious internet message:
Call out Gouranga be happy
Gouranga Gouranga Gouranga!
That which brings the highest happiness
<![if !vml]>

<![endif]>
Our reader Chris had a wonderful vision of access to a dimension gateway.
I would like to stop and explain that I have begun to have visions
in the last year, of things which I really do not understand, but culminated
in my experience three days ago.  I was meditating to the sunset, and went
into a trance in which my body and mind unified with my surroundings, and an
intense energy like I have never felt flowed through my body.  As the sun
set I came out of my trance, and as I was watching it set, two women, who
had walked maybe a half mile down a ramp to me, approached and said only one
thing to me.  The pointed to a ruined building below and said "There is a
gateway there" and immediately turned around and walked back up the half
mile away from me.  This scared me beyond belief, and so I went down into
the building, but the sun had already set and in the darkness were
pentagrams all of the wall, and crosses.  Behind the building was a small
room, and if there was going to be a "gateway" in that location that was it.
  It has a pentagram on the ceiling, and I honestly was too afraid to enter.
Chris, you did not enter the gateway. Perhaps you were not ready for it.
When the vision comes back to you (which it will, we are sure), you will be ready for it.
<![if !vml]>

<![endif]>
From a wonderful friend we got an e-mail about meeting Divinity.
hello robert, my name is X..... and i came across your interesting site.  i am struggling with the idea of spirituality and i know i can only find that answer in myself.  what really got me interested is where you said you met the goddesses on a beach in hawaii.  how do you open yourself up to such spirits? where do you think people go after death when tehre are so many dimensions to human belief and religion? I was raised muslim but im not religious anymore and christainity does not appeal to me even if i do study it sometimes but im more into a free form of belief. 
how would someone contact such divinities.. im very curious.
Dear X...., the Goddesses came to me in an unusual way.
Their appearances were like the oldest ladies I have ever seen.
I was shocked, because I thought: "How are they able to walk through the sands of the beach."
It took them for ever. Then they dived into the high waves of Kailua!
I hear their light voices above the surf. They are having fun!
After a while they came out of the water and walk slowly straight towards me.
The 3 Goddesses came sitting next to me, watching me.
<![if !vml]>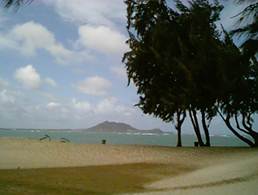 <![endif]>
Left of the trees on Kailua Beach
<![if !vml]>

<![endif]>
From John we got a lengthy reaction upon the mystery of the Paracletos.
John sees the Paracletos as the Holy Spirit, fulfilling the work of Jesus on Earth.
paracletos:
hi, looking at the purpose for jesus' appearance on earth, we can get an idea for his decision to provide further contact with us after his ascension.this purpose was basically to reconcile men to god, as menare separated from god by a spiritual and physical schism,or division called sin. i say physical, because our fleshholds the temptation that draws us away, or divides us fromthe spiritual persuits that god would have us do.while on earth, jesus taught the disciples the principles ofgodly living. and jesus wanted to be sure that belivers throughouttime had the same opportunity to learn these principles, therebybeing reconciled to god by not falling into sin.so the further contact he provided was what he termed the paracletos. without going into great lengths to explain,i'll say he asked god, and god gave himself to spiritually live inside every believer. god is spirit,so he dwells in this dimension inside believers as a result of their faith that jesus did indeed live,die, come back to life, and ascend into heaven.the power by which jesus did miracles and came back to life is god's power. this power is god's spirit,or the paracletos. many unbelievers do not believe this power exists, probably because they can't see the spirit, or rarely see the result of the spirit's actions.likewise, in their unbelief, they remain unreconciled to god through continual sinning;being tempted by their flesh and unregenerated mind. so it's evident we naturally do not live according to god's standards. and we need help living his way, so he provided jesus and the paracletos.if we only believe in a reincarnated person as the paracletos, a few questionable resultsdevelop:
one, that jesus' mission on earth was not quite accomplished, and another one like him needed to come again.
two, that god's spirit will not enter into believers, because the reincarnated physical paracletos wouldonly contain god's power. believers would never be able to begin to live according to god's way, and thereby start the path to reconciliation, free from sin.further,
three, that the paracletos would die again for futureresurrections, and for what purpose? if this is a continuous cycle of resurrection by the paracletos,the purpose of jesus' mission loses all meaning:in order to reconcile us to god, he sacrificed his living body. this act not only paid the price for our sinsagainst god, but was a living symbol of how our flesh must be denied, by the work of the paracletos in our otherwise condemned bodies of flesh, and unregenerated minds. this symbol need not be repeated, nor the payment repaid.so, the paracletos is instrumental in our reconciliation to god, by regenerating our minds through knowlege, and purifying our flesh through our resulting change in behaviour. there's no need for a resurrected person to come again, because the paracletos has always lived. it's the power that resurrected jesus, shows us god's ways.living flesh cannot do the work of god within us, but the spirit, or paracletos of god, can inhabit every person at once, if we accept that our sins are what separates us from god. then logically we will turn to god for help, and god will forgive us because of jesus' work, and will help us with further sin through the inner paracletos' work.
<![if !vml]>

<![endif]>
We are very happy with this E-mail from an unknown friend:
Hi. I read your psychic letter to psychic people
and I took your advice
and accepted my visions.
Sometimes my visions aren't really scary.
Some of them even help me with life.
Now I feel OK to tell friends
and family about my talents.
Thank you, Robert
<![if !vml]>

<![endif]>
From Christian readers we get regularly reactions.
There is no room to place them all.
Here is a very nice one:
Robert, please don´t believe in your own words.
Unfortunately, it´s not the truth.
It would be easier also to me, if it was true,
but unfortunately I should say that we have only one chance
to repent of our sins
and to accept Jesus as our Lord and Savior.
Ask Him for the truth
about Jesus and the Holy Spirit, the "Allon Paracleton".
And, after doing this, only wait for the answer.
I really hope to meet you in Heaven, in some day!
Sincerely,
<![if !vml]>

<![endif]>
We got a remark on the Lecher antenna page
from our reader R.:
There is one more from the ACMOS manual -1.1
which is Sacred - Internal polarity.
This is the connection to Divine energy.
Regards,
R.
Thanks for this extra wavelength.
Also for the reference to the ACMOS Lecher antenna,
which is a very interesting antenna.
The 1.1 wave lenghth is special indeed.
<![if !vml]><![endif]>
Robert wrote to our reader S.:
Hello S,
Thank you for your question on the Atlantisring.
I don't think the Atlantisring will interfere with
other pendants. I asked an expert on this subject
 and he stated that the effect of a pendant
will be slightly amplified, 
because of the protecting effect of the Atlantisring.
The Atlantisring has a strong aura healing effect,
anyways on me. Ofcourse for you the result 
could be different. Anyway the Atlantisring has had 
a big influence on my life.
The finger you keep the Atlantisring on?
I believe that the left hand, which is the hand of
love and emotion, is the best hand. 
I don't think it matters which finger. 
Pick the finger you feel fine with. 
When you are doubting, try the other
fingers to wear the ring on.
There are people who have the Atlantisring as a
pendant, but the results are much weaker compared to a ring,
 is what I have heard.
Many happy experiences with the Atlantisring!
Thank you for reading our website.
Robert
<![if !vml]><![endif]>
Our reader J.M. wrote us:
First, let me tell you I enjoy your page very much.
Of all the pages out there,
yours is very short but consice to the point.
 It brings a lot of things
 I have read over the past years into focus.
Thank you for this wonderful compliment!
<![if !vml]>

<![endif]>
Our friend J. did sent us a wonderful prophecy
from the Hawaiian spirituality.
"Hello Robert, I am J.
I have to tell you a story
Its the story that goes about me and
about mana so listen carefully
Spirits come to me and tell me what my destiny is
I get visions about my past."
Thank you, dear friend J.
Robert is studying this beautiful vision.
We are thinking about making a special page of this vision.
See the Hawaiian spirituality page.
Maybe it is also the time to tell about the meeting
with the Goddess Pele on Kailua beach.
<![if !vml]>

<![endif]>
Hallo Robert,
>
I have become very curious, whether you are the Robert
I know from other activities in the field of action.
Many happy greetings, 0.F.
Thank you F. for reading our website and
for meeting you in our webhouse.
<![if !vml]>

<![endif]>
Many (more then 100) readers have asked us to replace
9 Archived pages in Home2b.nl
Our answer is, that these Archived Pages are
to much out of date. Recently updated pages are
elsewhere part of the actual Home2b.nl
We placed 9 conversion pages
for these otherwise broken links.
95 readers asked us to replace the Archive Pages
library, spirit-place-6, and solse-gat.
Since these pages are not to much out of
date, we have done what our readers were asking for.
<![if !vml]>

<![endif]>
R. from the Netherlands called us and told us
that he is reading one page
of Home2b.nl every day, as a kind of meditation.
This is wonderfull, thanks friend R.
<![if !vml]>

<![endif]>
Several readers from Croatia and Mexico did send us
thanks for starting the Vedanta Advaita pages in Home2b.nl.
They are encouraging us to continue.
Thank you friends for your nice words!
 We will go on with enlarging the Advaita section.
<![if !vml]>

<![endif]>
From G. and I. we got two nice pictures
of the Hathor sarcophagus in their possession.
They gave us permission to publish them here on home2b.nl
<![if !vml]>

<![endif]>
<![if !vml]>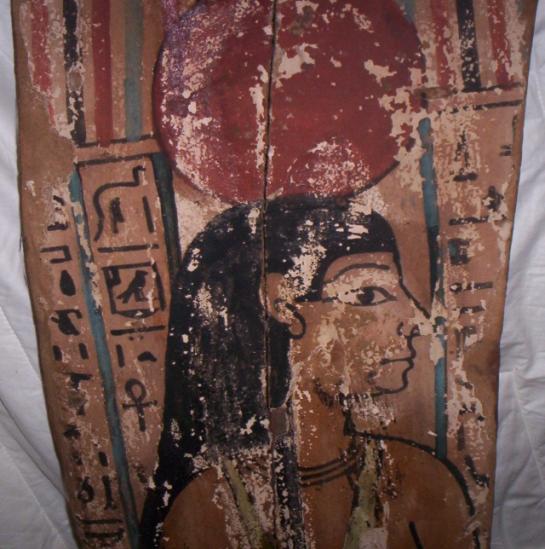 <![endif]>
Thank you, friends.
<![if !vml]>

<![endif]>
Hallo Robert and Susan,
We did meet each other at the Solse Gat.
I like to read and write about ley lines
and ley line centres.
Am I allowed to use the pictures of the Solse Gat
 on my own website?
Ofcourse I will add a link and a reference to home2b.nl
Happy greetings,
<![if !vml]>

<![endif]>
Hi,Robert and Susan.
I am from Beijing, China.
I very interesting in the Atlantis ring,
so I want get one copy of it.
But nowhere do they make the ring in my country.
I want to make it by the local goldsmith.
I not sure how to make it,
so I draw some picture by computer software.
I want to ask you:
Am I draw the picture right?
(Yes, indeed you made a correct drawing.)
<![if !vml]>

<![endif]>
Hi... I live in Uruguay, South America.
Surfing through the net,
searching for some info about the ring,
I found your page.
I´m very interested in the ring
and I´m planning to ask a jeweler,
 to design an atlantis ring for me.
 I would be very thankful if you
were so kind to send me
some info with the correct specifications
(size, designs, etc) on how to do it.
<![if !vml]>

<![endif]>
Hi Robert and Susan,
Greetings from Culiacan, Mexico!.
I felt a very good vibe when I saw your website,
 perhaps those in the same wave of energy meet sooner,
don't you think?
About my experience, I can tell you that
after using the atlantisring my circulation
improved in a 30% I believe. I'm trying to get a gold one
 but still considering where to get it.
Everyone seems to have different ideas
 of what's the original's supposed to be.
Something changed since I wear the ring,
my cellphone and phone number wont stop ringing,
I get the spotlight on social events,
and good energy from people. I get way to many smiles on the way.
Greetings!
<![if !vml]>

<![endif]>
Dear Robert and Susan,
As seen on your homepage,
 I found very interesting the information supplied by you
 and the extraordinary experiences given by the Atlantis Ring!
I live in Macau, which is located in South China
just 50km away from Hong Kong.
Yours faithfully,
See our Atlantis ring reports.
<![if !vml]>

<![endif]>
Hi Robert and Susan,
I have bought a Atlantis ring
since 1 week and I wear sometime.
I have make test with my pendulum(dowsing)
 with bovis scale. I have remark that
this ring have a special vibration.
If you are ability in dowsing,
I want you test your ring and test your personal vibration
without atlantis ring and check
if your personal vibration increase in long term.
Excuse me for my bad English,
but this is not my natal language.
From Quebec, Canada.
<![if !vml]>

<![endif]>
We love your reactions!
We speak English
Wij spreken Nederlands
Nous parlons Francais
We read German and Spanish
You may e-mail:
<![if !vml]>

<![endif]>
Please read our privacy statement
Updated August 18, 2012
Everything on this website:
ÓCopyright 2002-2012 Robert and Susan
<![if !vml]>

<![endif]>