<![if !vml]>

<![endif]>
Susan Message
at Home2b.nl
<![if !vml]>

<![endif]>
<![if !vml]>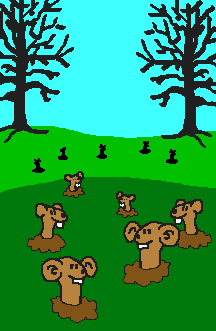 <![endif]>
It is Groundhog Day!
February 2
Groundhog Day is celebrated on February 2nd.
It began back in the late 1800's (1887?)
when German immigrants
brought their tradition of Candlemas
to the United States of America.
<![if !vml]>

<![endif]>
Candlemas is the halfway point
between the winter and spring seasons.
Legend has it that the hibernating
groundhog will wake up for Candlemas on February 2nd
and pop his head out to see if spring has arrived.
Since the groundhog is a very timid animal, he can easily
be frightened by his own shadow. If it is a sunny day
and he sees his shadow, the groundhog will burrow back
down to sleep for another six weeks. If it's a cloudy day,
 the groundhog will come up above ground
and wake up for the spring season.
<![if !vml]>

<![endif]>
I am reminded of the Comedy movie called Groundhog Day
 with actor/comedian Bill Murry. It is hilarous.
I remembered when I first showed it to my husband.
At first he sat down reluctantly, grumpling just a bit
and after the second radio alarm clock went off,
he said, "Hey, what is this?!?!"
Then he watched with renewed interest and
found himself not only very interested
but laughing along with the movie.
It is a great film because it not only shows us
about laughter but it is really a film about
 re-incarnation, only with the memory intact.
<![if !vml]>

<![endif]>
It shows us about the many mistakes we make
over and over and over again, as individuals, and as a human race.
 The mistakes that continually keep us down or
back from reaching our full potential.
We truely are humans becoming…
But if somehow, we acquire wisdom,
we can strive, walk or leap forward to become
our own hero and in the process help others along the way,
thereby becoming the best that we can be.
<![if !vml]>

<![endif]>
Here is a poem to celebrate Groundhog Day:
If Candlemas Day is bright and clear,
There'll be two winters in the year.
If Candlemas be fair and right,
Winter has another flight.
If Candlemas brings clouds and rain,
Winter will not come again.
<![if !vml]>

<![endif]>
I like to celebrate Groundhog day each year
 with this film. It is a good teaching tool and
it is also a reminder that we can become
better and better and better…
<![if !vml]>

<![endif]>
You may e-mail:
<![if !vml]>

<![endif]>
Updated July 22, 2011
Everything on this website:
©Copyright 2002-2011 Susan and Robert
<![if !vml]>

<![endif]>