<![if !vml]>

<![endif]>
Queen of Wands
at Home2b.nl
<![if !vml]>

<![endif]>
Advice: buy the Rider Waite deck.
Pamela Colman Smith (1878-1951)
designed those cards in 1909 while she was
under the guidance of the Goddess.
How to start with Tarot?
There is only one way to start with Tarot:
the cards have to come into your life.
<![if !vml]>

<![endif]>
How to handle Tarot cards?
You have to be very careful.
These cards are no careless toys.
The powers contained in these cards can cause trouble.
So keep the neutral cards upon and under the deck.
Keep the deck in a purple cloth.
Your daily card.
Draw a card from the deck.
How did this one card become visible in your life?
Note down in your Book of Enlightenment what you feel.
<![if !vml]>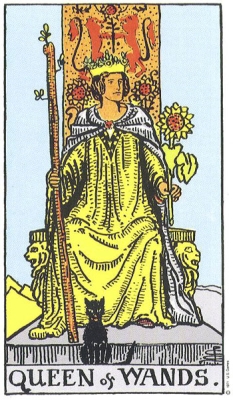 <![endif]>
The Queen of Wands:
<![if !vml]>

<![endif]>
The Wands are tokens of male energy.
This does not mean that everything is male determined.
The Wand is energetic, creative, with new initiatives.
Wands are abundantly filled with life.
This Lady is seated on the Lion throne.
She holds a sunflower in her left hand.
She is dressed in yellow.
The wand is in her right hand.
Her crown is decorated with leaves.
The black cat is looking at us.
The throne of the Queen of Wands is placed in a hilly landscape,
which looks like a kind of sandy desert.
The hills very probably are piramids!
Sunflowers images are also on the throne.
There is only one other Tarot card with a sunflower,
which is XIX the Sun.
The Sun looks upon the happy child on the white horse.
The Queen of Wands is thinking of having a child.
Or perhaps she thinks of making love in the happy sunshine?
Also notice her heart shaped juwel.
She seems content with the situation.
She has no armour on and looks peaceful.
When a lady like this comes into our life,
we somehow know she will not be easily a friend.
On the other hand I sense that she is very friendly.
She belongs to the Wands family.
Active, energetic, overruling.
Did she come into my life today?
Not a bad moment in our lifes to have this Spirit nearby,
may be a little bit overwhelming.
<![if !vml]>

<![endif]>
Warning:
Tarot cards are governed by real Spirit Powers.
Give the cards your careful attention.
Updated July 07, 2009
The Tarot card image: ©1971 U.S. Games
Everything on this website:
Copyright ©2002-2009 by Robert and Susan